Livestream & Online bidding info German Masters Sale 2018
The GERMAN MASTERS SALE 2018 is coming up, a fabulous line-up of animals are selling, 158 lots with something for everybody, fresh cows, high genomic animals, show heifers, embryo packages and more! There is an option to follow the sale online & to bid online through www.livedairyauction.com

GERMAN MASTER SALE 2018
Date / Time: Friday, October 2018 - 04:30 PM
Location: Auktionshalle Fließem, Germany
Sale website: www.germanmasterssale.com
INTERNET BIDDING & LIVE STREAM: CLICK HERE

SALE UPDATE: CLICK HERE
PICTURES SALE HEIFERS: CLICK HERE
VIDEOS SALE HEIFERS: CLICK HERE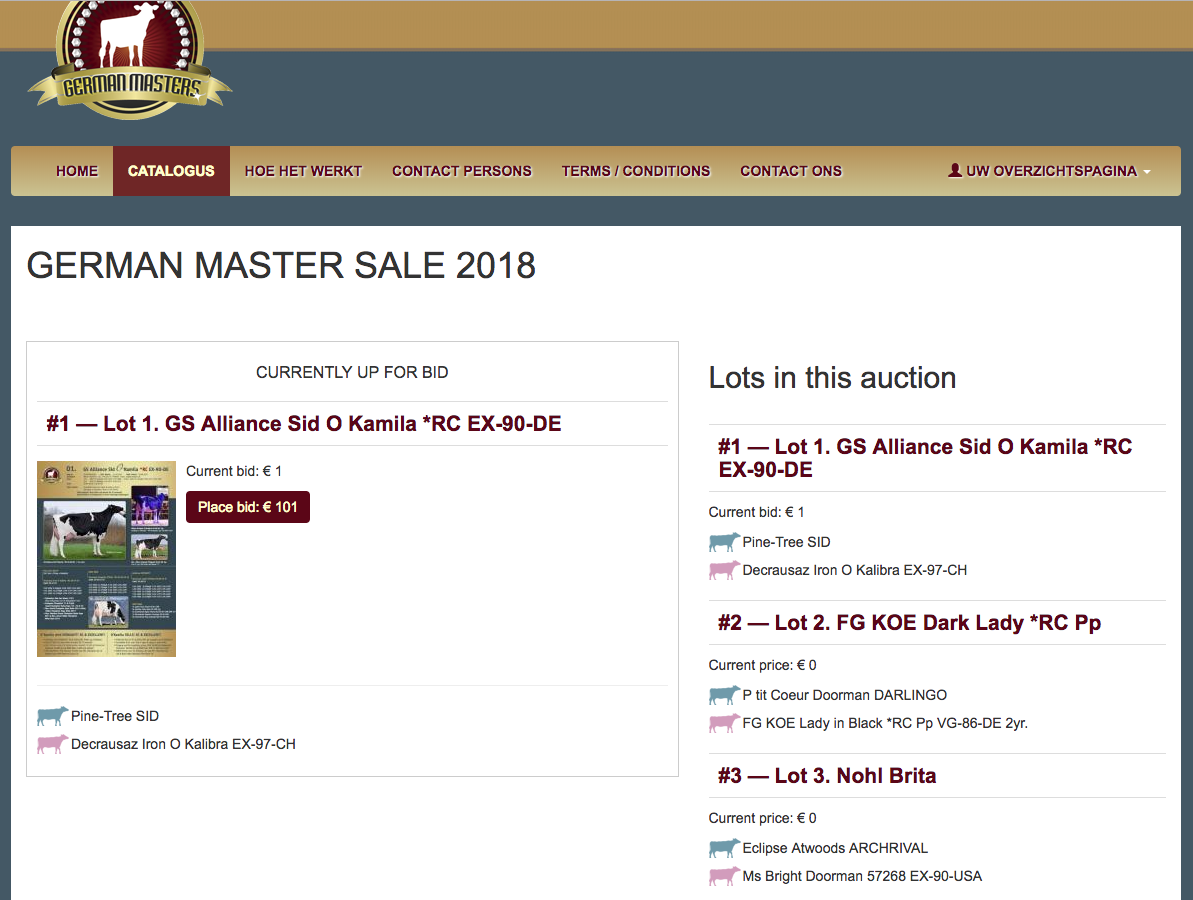 Lot 2. FG KOE Dark Lady *RC Pp
RED CARRIER & Polled grand dtr of Lady Gaga EX-97-DE!!!
Lot 4. HAM Majordy Red
Jordy dtr going back on a SWISS EXPO HM GRAND CHAMPION

Lot 10. Islandpride Riverdane Argonaut Zo
GTPI +2854 - one of the highest GTPI heifers ever sold in a European auction
Lot 11. DG Blake
The #1 GTP & NM FRAZZLED dtr in Europe! Almost 1000 $ NET MERIT! Going back on Talent Barbara

Lot 37. Genosource Doorman Arabella *RC
High Type RED CARRIER grand dtr of APPLE EX-96-USA
Lot 38. Lightning Ridge Beemer Camill
Top 5 PTAT calf in Europe - going back to CAMOMILE EX-95-USA
Lot 41. Wedgwood Sid Glamourgirl
Sid going back on Gloryland Liberty Rae EX-95-USA
Lot 52. WIT Delfi
Jersey's on it's very best!

Lot 63. Schwartz Ode Red
JACOT RED heifer - going back on Lavender Ruby Redrose EX-96-USA
Lot 74. HH Jordy Jamaika *RC
RED CARRIER grand dtr of Castel James Jolie EX-95-CH

Lot 94. Siepermann's Lucky Idee
Dempsey from the Idee Lustre cow family

Lot 105. Garay LB Buble *RC
RED CARRIER full sister to Garay Awesome Beauty - 2nd @ Madison '18
Lot 107. MS Highlife *RC
Avalanche grand dtr of Starmark-Ad Hotstuff Red EX-94-USA - Res. Grand Madison '12
Lot 128. MS DG Kalibra
Huigh CONFORMATION / PTAT Jacoby x VG-88 2yr. National show winner Goldwyn x EX Sid x Kalibra!!!!
Lot 149. Schwartz Nora Red
Red Grand dtr of Swiss Expo classwinner La Waebera Glacier Oceanie EX-94-CH

Lot 154. Gödeker Hazel
Chief from Res. All-German cow 2017 Hirondelle EX-91-DE EX-93-MS


GERMAN MASTER SALE 2018
Date / Time: Friday, October 2018 - 04:30 PM
Location: Auktionshalle Fließem, Germany
Sale website: www.germanmasterssale.com
INTERNET BIDDING & LIVE STREAM: CLICK HERE

SALE UPDATE: CLICK HERE
PICTURES SALE HEIFERS: CLICK HERE
VIDEOS SALE HEIFERS: CLICK HERE