Dueholm & Tirsvad Holsteins are selling at the Avlsdyr Auktion!
Tomorrow, november the 17th is the Eksklusiv Avlsdyr Auktion taking place in Denmark. Dueholm Breeding and Tirsvad Holsteins consigned interesting lots which could be yours! Dueholm Breeding I/S sells as Lot 8 Female Siemers Wolf Hulu *RC embryos out of Dueholm Milio Ada (s. Milio), she is sister to Lightning Ridge Amaethon P @SelectSires, he is an interesting and Polled Mirand PP *RC son at +3.53 PTAT. Or chance to get a grand daughter to Knonaudale Jasmine EX-96-CAN sired by Chief out of Ar-Type Dueholm Jasmine! As Lot 14 sells Dueholm Breeding Thunder Storm embryos out of a EX-91 Solomon x EX-91 Sid x Bons-Holsteins Koba 191 EX-94-NL EX-95-MS, she is the great Jasper daughter and multiple times showwinner! Interesting Feit P Red (+142 RZE) embryos out of BHA All You Want Red (The nr. 1 type heifer in Germany at +159 RZE) are selling as Lot 20! Tirsvad Holsteins sells as Lot 10. Progenesis Forward embryos out of Dykster 3STAR Aldayna, she is the #2 GTPI Peak Dayne daughter in Europe scores great in multiple systems, with in her US-index: +2787 GTPI and +154 RZG!

Eksklusiv Avlsdyr Auktion 2023
When: Friday, November the 17th 2023
Catalogue: CLICK HERE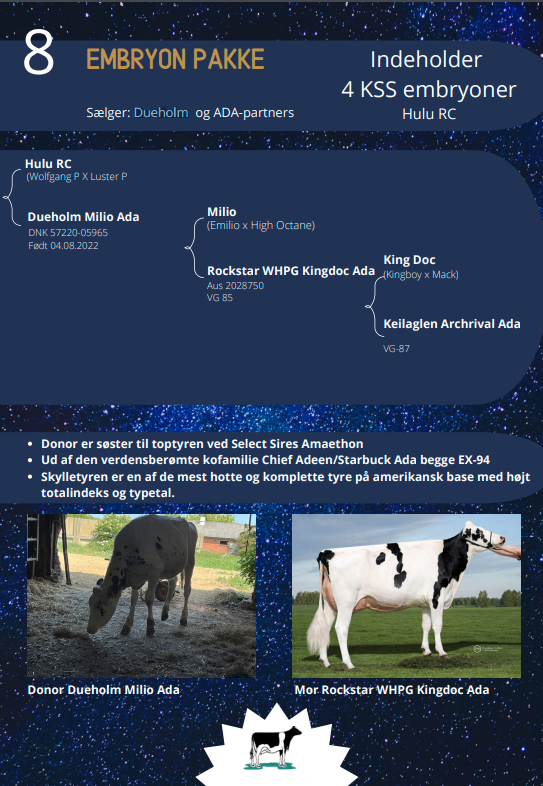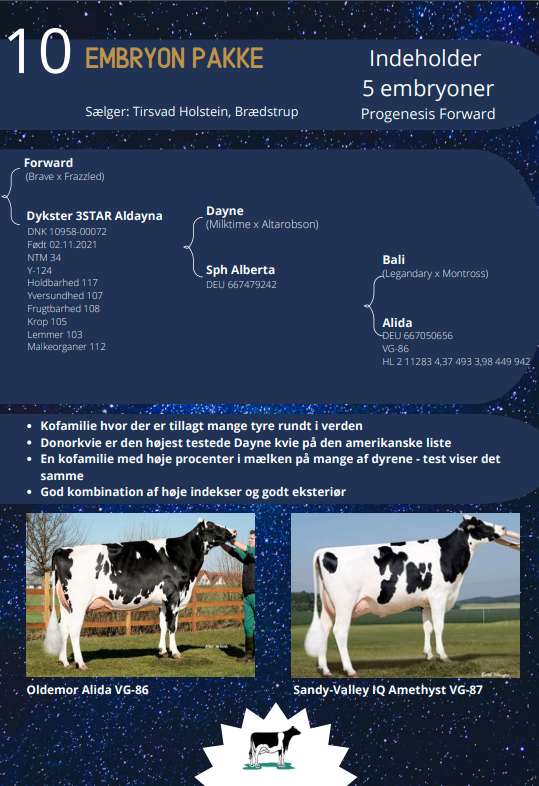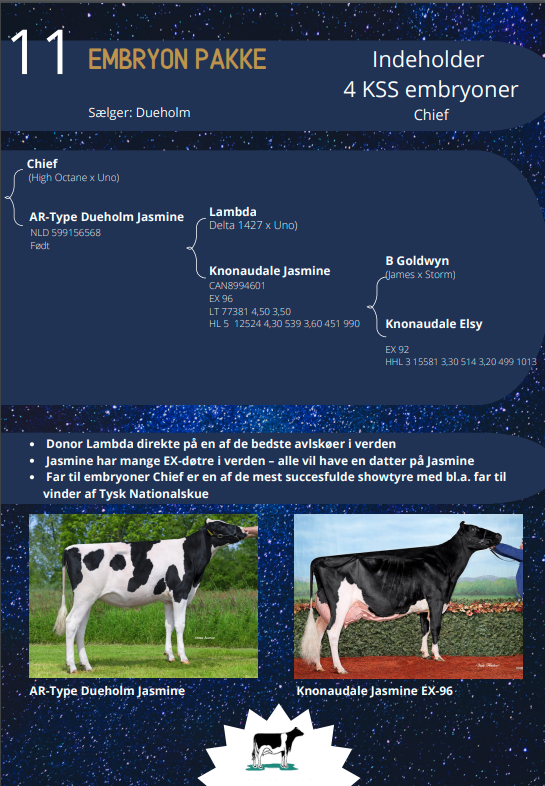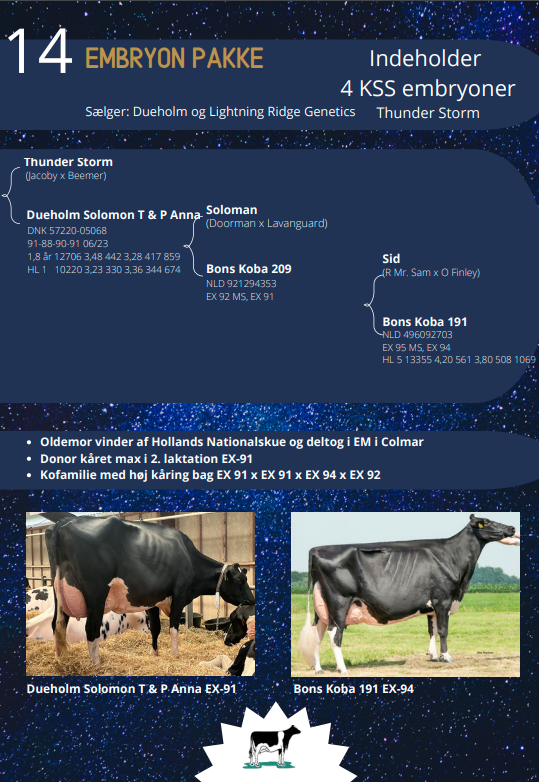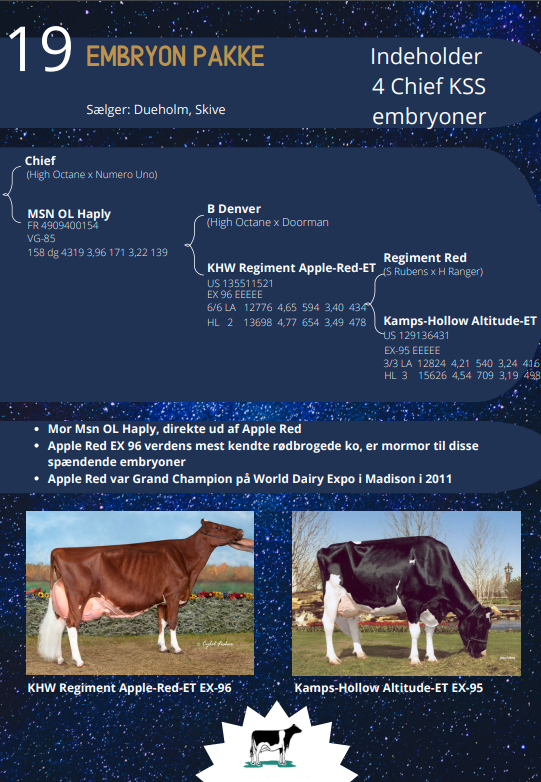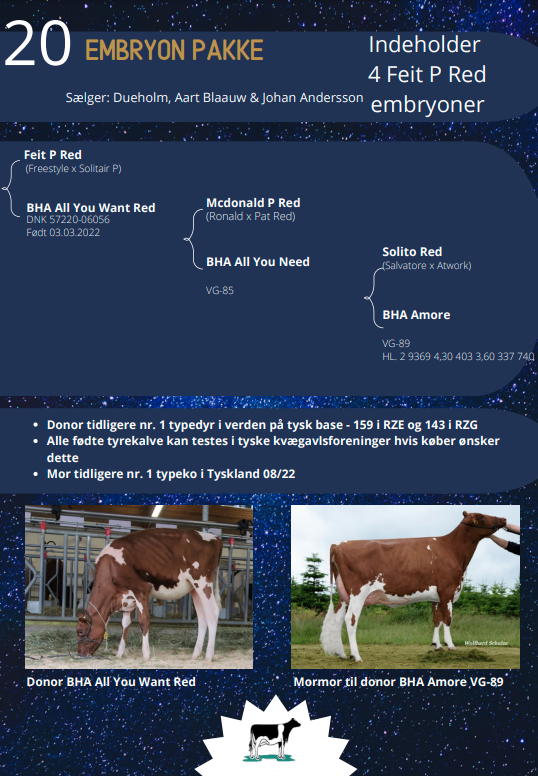 To contact Dueholm Breeding I/S,
click here
or use the following contact information.
Dueholm Breeding I/S
Dueholmvej 2
Skive, Denmark
7800

To contact Tirsvad Holsteins,
click here
or use the following contact information.
Tirsvad Holsteins
Trisvadvej 11
Bradstrup, Denmark
DK-8740