2x VG-88 for Willemshoeve Rita's
During the latest classification day at Willemshoeve Holsteins there were 2 daughters sired by Bradnick and out of the famous Willemshoeve Rita cow family classified with VG-88 points! Willemshoeve Rita 1263 scored VG-88 in her 1st lactation while her herd mate, Willemshoeve Rita 1055 scored VG-88 in her 2nd lactation. Rita 1263 is a direct daughter out of the show star: Willemshoeve Rita 670 EX-91-NL who was 2yr. old Champion at the National HHH Show in 2013 and Res. Intermediate Champion in 2015!
Other highlights:
Lucky Rita 1277 (Acme) 84FR 88DS 88MS 86FL / VG-87 2yr.
Javina 1276 (Epochal) 86FR 86DS 88MS 86FL / VG-87 2yr.
Rita 1334 (Acme) 84FR 85DS 89MS 83FL / VG-86 2yr.
Sonni 1336 (Cosmo) 86FR 87DS 87MS 83FL / VG-86 2yr.
Rita 3195 (Pitbull) 86FR 84DS 84MS 84FL / VG-85 2yr.
Rita 1348 *RC (Bolt) 86FR 84DS 86MS 83FL / VG-85 2yr.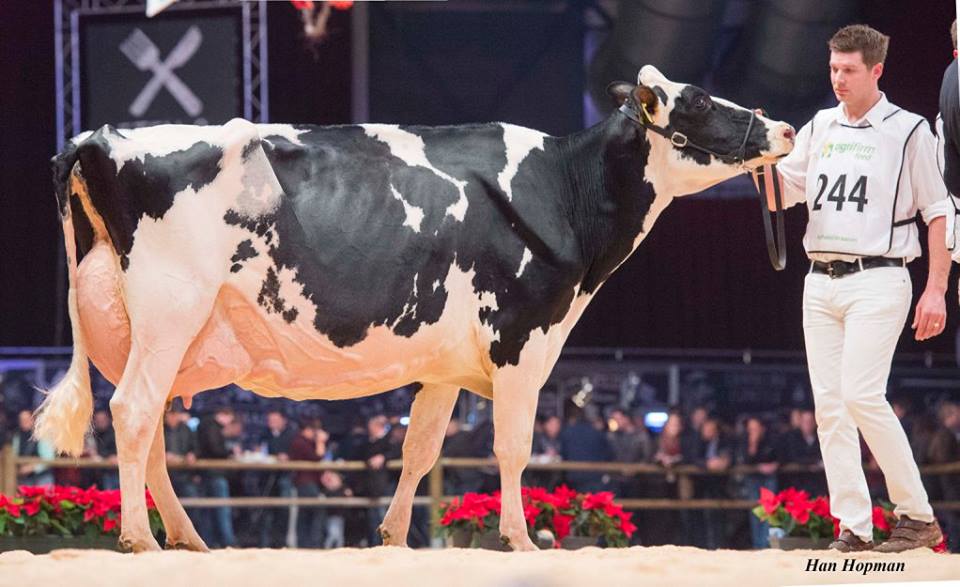 Willemshoeve Rita 670 EX-91-NL (PEDIGREE)
- Dam to Willemshoeve Rita 1263 (s. Bradnick) VG-88-NL 2yr.
- Champion 2yr. old National HHH Show '13
- Res. Int. Champion National HHH Show '15